PENSTOCKS SUPPLY / INSTALLATION / SERVICE AND REPAIR
Penstocks have many applications in the arrest and control of liquid flow. They are used on Waterways, Power plants, Industrial effluent plants, Drainage and Flood control as well as being used in large numbers on water, waste water and sewage treatment plants.
Penstocks, unlike valves, are normally fitted into or onto the civil structure formwork either in channels or over an aperture in a wall. The channels and apertures are sized to accept a range of flow situations and the penstocks are required to suit. This requirement alone dictates that they are a bespoke product.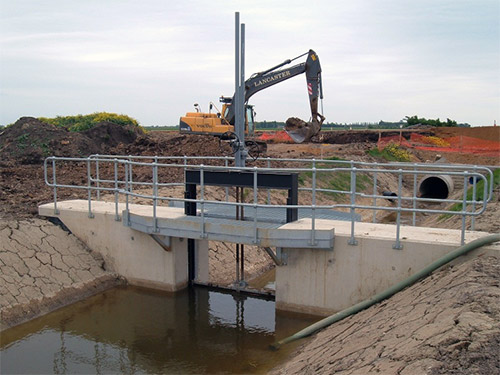 Industrial Pumps work closely with Hambaker Adams and can offer genuine spares and equipment along with fully trained service engineers to carry out installations/refurbishments along with general service work as required.
STOP LOGS
Stop Logs provide an economical means for isolation duties and weir applications where single piece stop gates would be too heavy to lift or where multiple door sections are required.
General standard size range is 1000mm square up to 2000mm square. Larger and smaller sizes are available. All assemblies are purpose designed to suit customers' requirements.
FEATURES
Corrosion resistance
Choice of frame material
Mechanically fixed renewable seals
Low maintenance
Lower installation costs
Custom built to clients requirements